How to Start a Business as a Kid or Teen – Top 6 Pro Tips
April 21, 2021
Starting your own business as a teen or kid can be exciting! With it comes the opportunity to learn life-long entrepreneurial skills that can help you be a successful adult.
There's also the added benefit of the money you earn by starting your own business as a teen or kid. The reason you're here is to learn how to start a business as a kid or teen.
Regardless of your age, you'll have to follow the same business-related rules as you would if you were to start a business as an adult.
You'll find that your parent will be one of the most important resources while starting your own business. Even though you're a dependent in their household, you want to make sure that you involve them in the business starting process so you can get your business off the ground.
It can be tempting to start a business and ignore the local, state, and federal rules that apply for legally operating a business, but you should know that doing so can put you in a hot spot.
There have been simple business ventures, such as lemonade stands, shut down by neighbors because the people running the stand didn't have the proper permits and paperwork in place.
Just as you would if you were a grown-up starting your own business, it's incredibly helpful to get expert guidance from a tax advisor, accountant, and lawyer.
The information that you'll find in this article is designed to give you an understanding of the things that you need to start thinking about, but it's not a substitute for legal advice.
How to Start a Business as a Kid or Teen
Here are the top six pro tips to help you start a successful business as a kid or teen at a young age:
Decide What Business You Want to Start
For teens and entrepreneurial kids, this step might be easy to check off the to-do list. For others, it can be a real struggle.
The best thing to do is think about a hobby that you would like to turn into a business. For instance, if you have a creative side, perhaps you want to make jewelry or artwork to sell as a kid entrepreneur.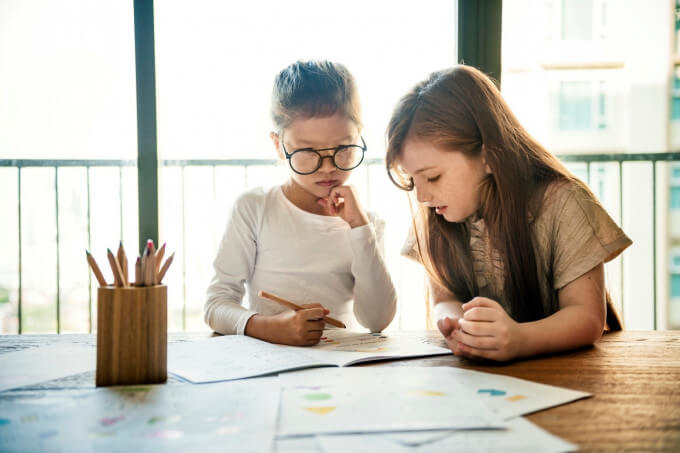 Or perhaps you enjoy physical activity and being outdoors. If that's the case, helping people with their lawns could be a great fit. If you enjoy entertaining and caring for younger kids, babysitting could be the gig for you.
Think about what you like doing and what you have the skills and talents to do as you think about what business you want to start. If you're struggling to think of something, you can find inspiration online.
Parents:
If your kid expresses interest in starting a business at a young age, you can provide them with valuable feedback and guidance as they figure out what path to take.
You can do this by helping them brainstorm ideas and taking inventory of their talents and skills.
Your insight can also help weed out any ideas that have excessive startup costs, demand too much time, or come with high liabilities. You can also keep them focused on their business idea and what they need to do for that business.
Discuss Your Business with Your Parents
As mentioned earlier, parents should be part of the business starting process. They have to get involved for a number of pieces of the process – law-related items, bank accounts, taxes, and other paperwork.
Parents:
It might seem like it's not a big deal if your child's business goes under the radar. But you can get into a lot of trouble if their business fails to meet the rules and guidelines that apply to adult businesses.
Possible responsibilities include paying self-employment taxes and income taxes if the business earns a profit of $400 or more, remitting and collecting sales tax on taxable services and goods, and obtaining local permits and licenses.
Talk with Potential Customers

It's incredible the things you can learn by talking with the people who you think would want to or need to buy your services or goods.
One good thing you'll learn from talking with potential customers is how much they're willing to pay for your goods or services.
For your safety, don't go out and talk to strangers. Instead, talk to trusted adults, friends, and relatives who could potentially become your customers.
You can even consider making prototypes of your products or showing demonstrations of your services to show your potential customers what you intend to sell.
By getting feedback from future customers, you'll know how to make your services and products better to attract more customers.
Parents:
Give your children honest feedback and helpful suggestions when it comes to their goods and services. You can also help find future customers who could make good beta-test candidates.
Produce a Business Plan
You'll find that you have a better idea of everything that needs to be done for your business once you write out a business plan. You must include things such as:
How are you going to advertise your business?
What name will you give your business?
How much are you going to sell your products/services for?
How much money is required to get your business started?
What do you need to get started? Where will you get those items, and how much do they cost?
Who will be your customers?
Where will your business operate?
What are your goals for your business?
Raise Money to Start Your Business
If you earn an allowance or work part-time, you might already have some money saved up. But will that be enough to get your business up and running until money starts to flow in?
If not, you might want to find additional income sources (i.e., additional chores) to earn some extra cash. You also want to learn more about money management.
Advertise Your Business
There are various offline and online marketing that can help you spread the word about your business to help attract customers.
Here are just a few ideas:
Flyers: Printed marketing, such as flyers, posters, and brochures, can draw attention to your business. Ensure that you have permission from the municipality, business owner, or property owner you're targeting before handing them out or hanging them up.
Email: Consider asking potential customers if they want to join your email list to receive updates about your business and any special deals that you might have.
Social Media: Twitter, Instagram, and Facebook are great platforms to build a following for your business because you can post videos, photos, and updates to showcase your services and products.