Best Cash App for Teenager – 6 Money Apps Teens Can Use To Manage Their Spending
October 1, 2021
Raising financially smart kids goes beyond mere talks about spending cash. Parents need to take practical steps to encourage good spending habits.
Instead of stopping at lecturing your teens on how to spend their money, you will likely get better results if you give them apps that do the job for you.
Modern technology makes it a lot easier to help teens manage their money and saves you the headache of trying to money what they do with money.
The best money management apps for teenagers can help improve how you and your children communicate about money, income, expenses, budgeting, and more.
Here is a list of excellent cash app for teenagers to help you find and download money management apps for your young ones.
1. Bankaroo

Developed by an 11-year-old, Bankaroo is arguably the most flexible and easiest cash app for teenagers. It is also ideal for younger kids and preteens, which explains why the app is popular with many youngsters.
Teenagers can conveniently keep track of their money and set saving goals with the app. They are also able to monitor spending and account for their allowances.
Bankaroo is a virtual banking app, meaning it is not linked to a bank account and doesn't hold real or manage real money. However, it teaches children the value of money without the risk of spending any real cash from your bank account.
The easy-to-use app allows younger kids and teens to learn how to save up for goals, track their progress, budget wisely, and spend responsibly. They can also set and manage allowance payments and other recurring activities, such as subscription payments.
2. Greenlight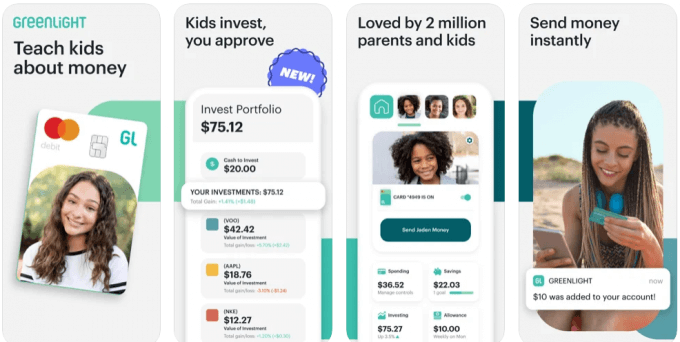 When it comes to in-app chore lists and real-time parent notification, Greenlight is an excellent choice of cash app for teenagers. It comes with an automated allowance feature, and it is an effective tool for teaching teens financial lessons while keeping parents in the loop.
The app is essentially a prepaid debit card for children with parental control, allowing both parties to keep track of the account. Teens can check their balance before spending money to avoid going beyond their budget.
But more than the debit card function, the app comes with an effective budgeting feature that encourages teens to earn money with chores, save money, collect interest on it, make better financial choices, and more.
Greenlight is available for download on Android and iOS devices, with pricing starting from $4.99 a month for a family with up to five kids.
3. Gohenry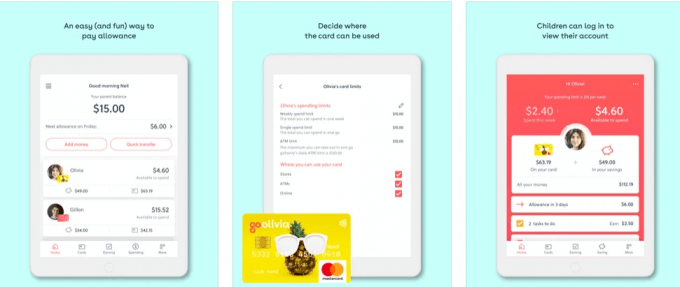 Gohenry is a cash app for teenagers as well as kids age six and older. The financial literacy app is linked to a MasterCard debit card provided by the app developer.
While your teenagers can spend money from linked debit cards, you don't have to worry about them going beyond budget because the app offers parental control, allowing you to easily set spending limits to prevent overdrafts.
With gohenry, your teenager can have real-time access to how much they've spent and where the money was spent. Also, the app allows them to set saving targets, giving them something to work toward.
One of the attractive features of this app is the personalized link function. It allows teens to create and share custom gift links to friends and family. It's a cool way for youngsters to receive monetary gifts during special occasions, such as birthdays.
4. FamZoo

While FamZoo is a personal finance app targeted at the entire family, older teens will find it a more age-appropriate money management app, particularly those heading to college.
One of the app's notable functions is the ability to assign a purpose to all the money that teenagers earn and spend.
Also, the platform allows parents to set chores for teens to do, and when they complete them, money is released to their accounts. In that sense, the app serves as an effective allowance system.
The app is available in two versions; a virtual bank option (suitable for younger kids) and a platform that involves the use of prepaid cards and real funds (ideal for older teens).
Parents can load money on the prepaid cards and see all the transactions their teens are making.
Famzoo is available for download on Android and iOS devices. It comes with a two-month free trial period and a $5.99 monthly subscription plan for the entire family at the end of the trial period.
5. Plan'it Prom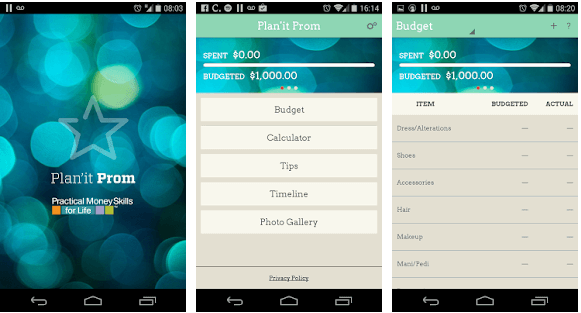 If your teenager plans to attend prom, Plan'it Prom is a perfect money management app for that purpose.
Both parents and students can plan together using the app to budget what needs to be spent. The app features a budget calculator, a timeline, and a prom countdown, among others.
Defining what needs to be spent on prom long before the event takes place helps teens stay within their spending limits.
Apart from helping teens plan effectively for prom, the practical money skills learned will remain with them for life. Plan'it Prom is available for download on Android and iOS devices.
6. BusyKid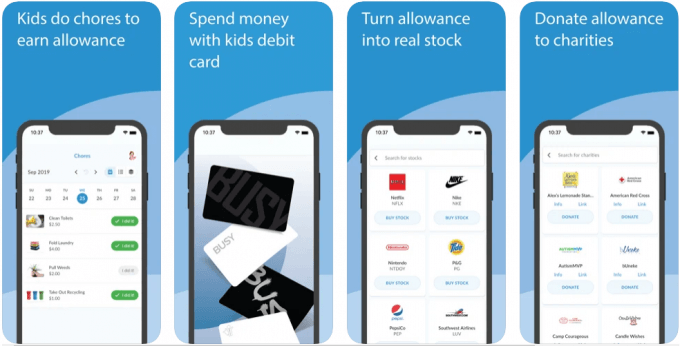 The name BusyKid might seem like something designed for younger children, but this app comes with pretty much everything any parent will need to teach their teenager about money.
It offers features that cover important financial lessons, including budgeting, saving, investing, and more.
But that's not all. Like any good cash app for teenagers, BusyKid allows parents to assign chores and allocate allowances for completing them. Your child can spend real cash using the BusyKid prepaid card anywhere Visa cards are accepted.
The app allows you to set up your bank account to transfer earned allowances to your teen's bank account as soon as you verify that they have completed their chores.
That's an effective way to teach your child responsibility and how to work to earn money.
This is the app of choice for parents looking to teach their teens about real-world investing, as it allows teenagers to convert their earned allowances into real stocks and watch their investment grow.
What do you think? Do you have any other recommendations for the best cash app for teenagers? Let us know.
Featured image source: Pixabay